UEFA report: registered female footballers on the rise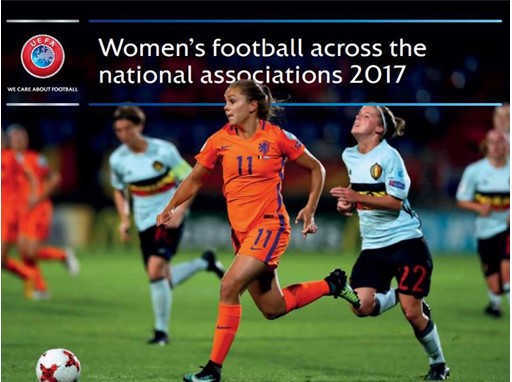 UEFA's 'Women's football across the national associations 2017' report shows how the female game has evolved over the past five years, and offers a snapshot of the sport in each of UEFA's 55 member associations.
Women's football continues to grow in popularity, with more and more women and girl players across Europe. The game also received an extra boost in 2017 – the biggest
UEFA Women's EURO
​​ in history took place in the Netherlands, featuring 16 teams and breaking attendance and audience records across the board.
The report draws on data provided by all national associations via an annual women's football survey, and is supplemented with UEFA Grassroots Charter data collected in June 2017. The figures in the report bear witness to the growth in women's football throughout Europe:
Registered female players: Went from 1.270m in 2016 to 1.365m in 2017, an increase of 7.5% in one year
Countries with more than 100,000 players: England, France, Germany, Netherlands, Norway, Sweden
Professional and semi-professional players: More than doubled in four years, from 1,680 (2013) to 3,572 (2017)
Qualified coaches: Increase to 19,474 (2017) from 17,553 (2016) 
Qualified match officials: From 7,505 (2013) to 12,785 (2017) – a 70% four-year increase
Girls football: A growth in women's youth teams from 21,285 (2013) to 35,183 (2017)
Nadine Kessler, head of women's football at UEFA, who also enjoyed a distinguished career as a player, is confident about the current state of women's football, but is also aware that there is still more work to do.
"Congratulations and sincere thanks to everybody who contributed to this success and is eager to foster the development of women's football in a collaborative manner," she said.
"This report is excellent proof of how we are moving forward step by step, and this data is justifying all efforts that are being put in place in order to spread the greatness of women's football across our national associations and the world.
"The impact of the development work can today be observed by the increased level and interest in UEFA's women's competitions. However, there is still a lot to do, so we should be ambitious in terms of setting our goals and never forget that we, all football stakeholders, can only achieve these objectives by working together."
The momentum behind women's football, along with ever-growing interest among fans, would not have been possible without the investment and dedication of the national associations, which have been organising a vast array of development projects, from grassroots to elite level.
Thanks to investments such as these, there are lasting, positive results in terms of participation, professionalisation and performance at all levels of the game.
CONTACTS
UEFA Media & Public Relations

CH-1260 Nyon 2

Switzerland

+41 848 04 27 27
MORE FROM News
SUBSCRIBE TO RSS FEED
XML