UEFA makes new donation of €100,000 to ICRC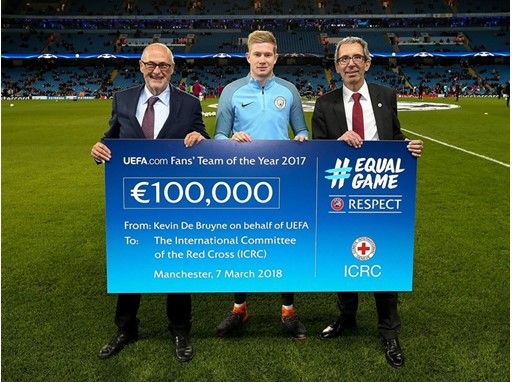 Kevin De Bruyne will hand over a cheque from UEFA to assist the ICRC's Afghanistan rehabilitation programmes.
Kevin De Bruyne was named in UEFA.com Fans' Team of the Year 2017
UEFA will mark 11 years of helping Afghan landmine victims on Wednesday when Manchester City midfielder Kevin De Bruyne presents a cheque for €100,000 to the International Committee of the Red Cross (ICRC).
"I want to thank the ICRC for the tireless work they have undertaken to help landmine victims, many of whom are children. They have shown through their programme in Afghanistan over a number of years that football can make a difference in people's lives," said UEFA President Aleksander Čeferin.
"It is important for UEFA to support football at all levels and to highlight the positive impact the sport can have on helping the rehabilitation process of so many people in this troubled region," he added.
The donation supports the ICRC's physical rehabilitation programme for landmine victims and other people with disabilities in Afghanistan – providing artificial limbs, physiotherapy, vocational training and access to the rehabilitation centre's football team. About a third of patients are children.
De Bruyne will hand over the cheque before his side's UEFA Champions League round of 16 second leg against Basel at the City of Manchester Stadium on 7 March.
"When you see people with physical problems, or any other sort of difficulties, if you can help them in any way it's always a good cause. As football players, we are very fortunate in that we have everything we need in life, so if we can help people it's a good thing," he said.
The Belgian international was chosen to present the cheque after being named in UEFA.com Fans' Team of the Year 2017, which was announced in January. Along with fellow countryman Eden Hazard, De Bruyne had the distinction of being the first Belgian named in the 11, as well as being the first Manchester City player selected.
Dominik Stillhart, the ICRC director of global operations, will receive the cheque from De Bruyne. The organisation currently has six orthopaedic centres in Afghanistan to treat landmine victims, and also offers a variety of programmes to help its patients reintegrate into society.
"We hope the children, who make up almost one-third of all patients in our rehabilitation centres in Afghanistan, will benefit from this, while the interaction with De Bruyne will help boost their self-esteem and passion," said Stillhart. "The donation will partially support the daily running of ICRC orthopaedic centres in Afghanistan which have cared for around 162,000 registered patients."
Over the course of a partnership lasting 20 years, UEFA has donated in excess of €3.5m to the ICRC to assist disadvantaged people around the globe. Meanwhile, over 8.7 million votes were cast in picking the UEFA.com Fans' Team of the Year 2017. More information on the award is available online at en.toty.uefa.com.
"Photos and videos of the cheque handover will be available later today."
CONTACTS
UEFA Media & Public Relations

CH-1260 Nyon 2

Switzerland

+41 848 04 27 27
MORE FROM News
SUBSCRIBE TO RSS FEED
XML