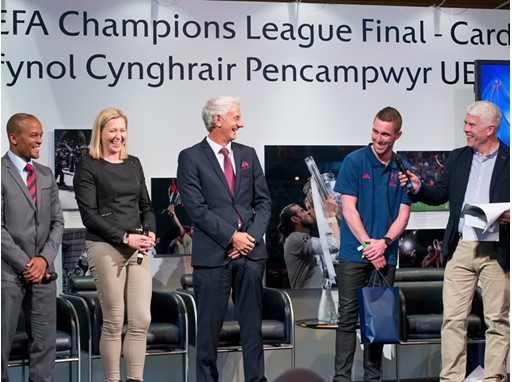 The commitment to grassroots football was highlighted at a unique photo exhibitionin the Welsh capital.

Welsh grassroots football is set to share the limelight with some of the most iconic moments in European Cup history thanks to a special exhibition at the UEFA Champions Gallery.
Held this year at the iconic Millennium Centre in Cardiff, the UEFA Champions Gallery has become a popular annual feature of the UEFA Champions Festival, taking visitors on a photographic journey through the last 61 years of Europe's premier club competition.
Ahead of the 2017 final, the UEFA Champions Gallery showcases images of grassroots football in Wales, chosen from submissions to the 'This is Welsh Football' photo competition held earlier this year. Organised by UEFA and the Football Association of Wales (FAW), the competition offered the prize of UEFA Champions League final tickets and a range of photographic equipment to the winners.
Ian Rush, and Jayne Ludlow, ambassadors of the UEFA Champions League and Women's Champions League finals, selected the four lucky winners:
Category off the pitch
Over 16: Keivan Edwards
Under 16: Craig Rattenbury
Category: On the pitch
Over 16: Will Cheshire
Under 16: Garry Taylor
Ian Rush
"Every picture tells a different story, and some of the winners there were incredible. It definitely brings back memories of when I was a kid, even putting the nets up and taking the nets down and things like that. I think you don't appreciate the people who do that: they're the unsung heroes."
Jayne Ludlow
"I think there's a few examples down there now this evening, but one jumped out at me straight away, because it actually highlights lots of things that we are trying to bring together with the identity of the female game in Wales. So for me, a picture says a thousand words."
CONTACTS
UEFA Media & Public Relations

CH-1260 Nyon 2

Switzerland

+41 848 04 27 27
MORE FROM News
SUBSCRIBE TO RSS FEED
XML