The Women's EURO referees - a top-class 17th team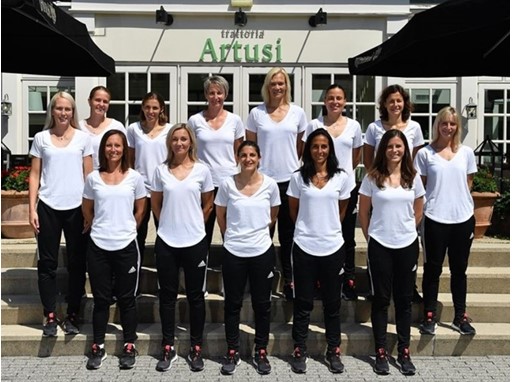 The 34 match officials at UEFA Women's EURO 2017 are determined to show that women referees have matched the impressive progress of the women's game.
​
UEFA Women's EURO 2017 – the first to feature 16 teams – will be the perfect platform to show the remarkable progress of women's football – and, alongside this, the excellent calibre of the leading women referees on this continent will also come into sharp focus.
UEFA has played a key role in nurturing women referees to attain their current impressive standards. For instance, as part of the European body's comprehensive referee development programme, the female officials join their male counterparts for UEFA's annual courses, and they have their own specific training programmes to foster the fitness levels that they need as top-level women's football continues to increase in speed and tempo.
Crucial advice and guidance is always forthcoming from UEFA's Referees Committee. One member imparts first-hand experience as a mentor to the female officials. Dagmar Damková, from the Czech Republic, enjoyed an outstanding refereeing career, taking charge of the UEFA Women's EURO 2009 final, the 2011 UEFA Women's Champions League final, and the final of the 2008 Olympic women's football tournament.
Damková feels that the biggest development in women's football has been in technical terms.
"It's not just a matter now of passing the ball and running," she says, "but you can really see that teams have technique, and they play intelligently. More and more teams are emerging from an increasing number of countries. In the past, you'd see a lot of landslide victories. Nowadays, there are not so many games like this."
The EURO referees themselves are ideally placed to comment on the progress that is taking women's football onwards and upwards.
"For me, the speed is the first thing," says Germany's Riem Hussein, who is at her first EURO. "And another thing is also the tactical approach – the players are getting better and better every day." 

Another EURO debutant, Sweden's Pernilla Larsson, agrees wholeheartedly. "You can clearly see now that women's football is getting faster and faster – they are preparing better, and are in better physical shape, which means that we referees also have to be well-prepared physically." 
"The referees have certainly reacted positively to what is needed today," says UEFA chief refereeing officer Pierluigi Collina. "Women's football is played faster than before, and the quality of play is definitely higher than before, so the referees today are also better athletes than before. Their ability to read a match is getting higher and higher. So they are coping with the increased level of women's football."
UEFA considers the technical and tactical study of teams and players as a crucial element in a referee's preparation, to keep the officials one step ahead of what happens on the field and help them in their decision-making.
Consequently, analysts are on hand at the Women's EURO to brief the referees on teams' playing styles and players' characteristics. Referees are also encouraged to do online 'homework' in this respect – allowing the officials to be fully prepared in advance for their assignments.
Dagmar Damkovà feels that there is a huge difference in referees' preparation between now and during her successful career. "I was talking with one of my colleagues," she says, "and we said to each other: 'How lucky referees are nowadays!'. We talked about how much material they have at their disposal. They are provided with a lot of things that we didn't have."
"Nowadays, they have so many opportunities to learn, to gain experience, to practise," Damkovà adds. "Practical training can even include sessions with players, where the referees train for situations - we didn't have this in the past. And now they are also able to study and practice by watching video clips."
The team of EURO match officials all have different stories to tell regarding why they took up refereeing. Some of them started out their journeys as players.
"I played in the German second division for some years," explains Riem Hussein, "and I complained about referees all the time! I said to myself that I couldn't keep on complaining - I wanted to see for myself if I could referee. So I took a course, and refereeing became my major objective." 

Kateryna Monzul, from Ukraine, is at her third EURO. She also played football in her childhood. "I eventually had to choose between being a player and a referee," she says. "I chose the latter – and I'm pleased to say that it was the right choice." 
There is a palpable sense of pride among the referees in their EURO appointments. Some are fulfilling cherished ambitions. "When I started to referee," Monzul adds, "it wasn't my goal to be a UEFA referee – it was my dream. And if you continue to work hard, dreams come true."
 
"I'm proud to be part of this," says Hussein, "I'm aware of the fact that, as a player, I wouldn't have reached this level. You have to enjoy the moments, because they may never come twice." 
Dagmar Damkovà speaks from a considerable font of knowledge about what it means to be a major tournament referee. "It's something special, it's something that might happen once in a lifetime," she reflects. "So when it happens, you are proud, you feel you are the one, you are chosen. You have to prove that you are one of the best."
Another close admirer of the women referees' commitment and professional attitude is Belgian Jean-Baptiste Bultynck, a former referee himself who has supervised their fitness training and preparation in the run-up to the EURO. "I'm not only impressed by their dedication to fitness, but also their dedication to football and to refereeing," he says.
"They are highly motivated, and want to referee to the best of their ability. It's about nothing else but refereeing. They want to show how good they are, and how they want to make progress…and their progress in the last ten years has been amazing." 
The Women's EURO will doubtless set new benchmarks for women's football, but what are the prospects for the future? Kateryna Monzul is one of a considerable number of people who feel positive and optimistic about where the women's game is heading: "You know, my hope is that it will be more popular, and not just in a few countries," she says. "I hope that women's football will be famous and popular for everybody in the world." 
CONTACTS
UEFA Media & Public Relations

CH-1260 Nyon 2

Switzerland

+41 848 04 27 27
MORE FROM News
SUBSCRIBE TO RSS FEED
XML