Football for All in Cardiff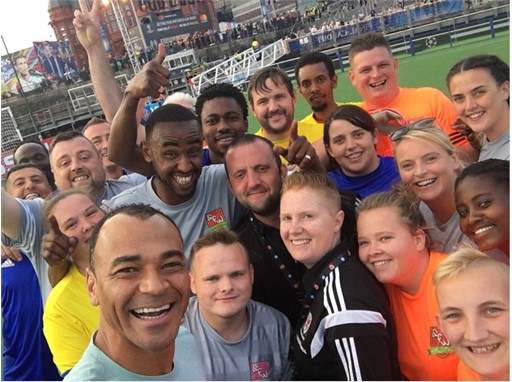 Cardiff has not only welcomed stars from Juventus and Real Madrid this week; players of all abilities have been in the Welsh capital promoting other facets of our beloved sport.
Footballers of varying abilities have been showcasing their skills in the 'football for all' games during the UEFA Champions Festival in Cardiff. Played on the floating pitch in the city's iconic bay, there have been matches involving amputee players, homeless and socially excluded players, refugees, deaf and hard of hearing players, and players with cerebral palsy.
Here are three interesting facts on the following engaged organisations, two of which are long-term social responsibility partners of UEFA:
The European Deaf Sports Organisation (EDSO)
EDSO members include 40 countries with 50,000 athletes.
Twenty different sports are represented, including football and futsal.
At the UEFA Champions Festival, the Welsh national deaf team played one of the top Welsh futsal teams, Cardiff University Futsal Club. The choice to have a deaf team oppose hearing players was made to promote integration.
The Homeless World Cup (HWC)
The Homeless World Cup uses football to inspire homeless people to change their own lives, get out of isolation, and reconnect socially.
94% of players say that taking part has had a positive impact on their lives in terms of a feeling of belonging, challenge of working in a team, health-oriented attitude towards life, and self-esteem.
At the UEFA Champions Festival, four mixed teams from Street Football Wales faced off in exhibition matches, actively supported by Brazilian football legend Cafu.
The Cymru Welsh Refugees League
The league welcomes asylum seekers and refugee players in and around Cardiff, the majority of them on minimum benefits.
The spirit behind the Welsh Refugees League is to foster community cohesion and integration, and give players a chance to play football in a structured environment. It has so far produced 25 qualified Level 1 coaches, six 11-a-side referees and two futsal referees.
New regional five-a-side tournaments have been set up for developed refugee teams. Winners of these tournaments – Newport, Cardiff and Swansea – played in a national final at the UEFA Champions Festival.
UEFA strives to make football inclusive to everyone, and looks forward to welcoming more of such inspiring football organisations to its future major European competitions and tournaments.
CONTACTS
UEFA Media & Public Relations

CH-1260 Nyon 2

Switzerland

+41 848 04 27 27
MORE FROM News
SUBSCRIBE TO RSS FEED
XML