Antoine Griezmann voted UEFA Europa League Player for 2017/18 season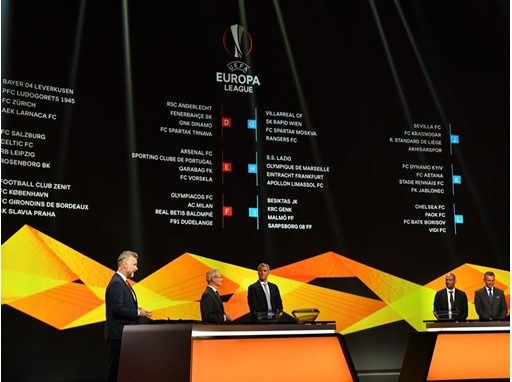 The award winner was announced the 2018/19 UEFA Europa League group stage draw in Monaco.
029 - Two players of Club Atlético de Madrid featured in the first three places
Antoine Griezmann has been named the UEFA Europa League Player of the 2017/18 season during today's UEFA Europa League group stage draw in Monaco. He is the second Frenchman to win this award after Paul Pogba was handed the accolade last year.
The Club Atlético de Madrid forward scored two goals as he helped his side win the UEFA Europa League title in May in Lyon. The 27-year-old claimed a total of 388 points. This summer, the French international was part of the side that won the FIFA World Cup in Russia, while he was also victorious at the UEFA Super Cup in Estonia. His national team compatriot and Olympique de Marseille midfielder Dimitri Payet came second with 103 points. Griezmann's clubmate Diego Godín (Uruguay) was third, finishing with a total of 84 points.
The jury was composed of the coaches from the 48 clubs, which participated in the group stage of the 2017/18 UEFA Europa League, together with 55 journalists selected by the European Sports Media (ESM) group. The coaches were not allowed to vote for players from their own teams. Both coaches and journalists were requested to select a shortlist of three players by allocating them scores of five points, three points and one point respectively. The final result was based on the total number of votes cast by the coaches and the journalists.
In a recorded video message, the 27-year-old Griezmann said:
"I am very honoured and proud to receive this award and would like to thank all those who voted for me. In particular, I would like to pay special tribute to my coach, to the technical and medical staff and of course to my teammates. This award is also for the supporters. I am delighted to have won this accolade and I hope this trophy will bring further success either at a collective or on an individual level."
CONTACTS
UEFA Media & Public Relations

CH-1260 Nyon 2

Switzerland

+41 848 04 27 27
MORE FROM News
SUBSCRIBE TO RSS FEED
XML