Zaatari and Azraq Residents to Benefit from Two New Artificial Football Pitches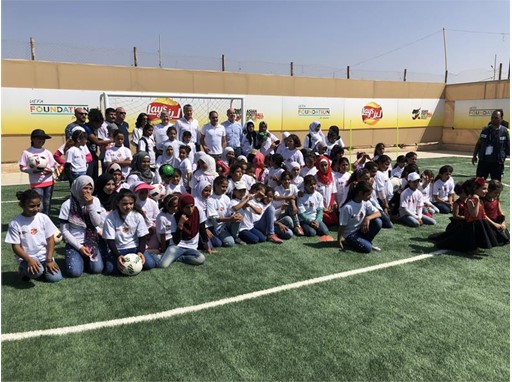 The UEFA Foundation for Children, Lay's and the Asian Football Development Project (AFDP) have joined forces to turn unsafe play areas at two refugee camps in northern Jordan into artificial football pitches. A dedicated girls-only pitch will enhance Zaatari's current football facilities, while a newly upgraded pitch will enable even more football-loving girls and boys in the Azraq camp to enjoy their favourite game.
Lay's first teamed up with the UEFA Foundation for Children and the AFDP in September 2017 to build a full-size, permanent artificial pitch for Zaatari residents. Over the past 12 months, 35,000 children and adults have used the pitch, with 600 matches played in 20 tournaments and football training courses on offer all year round. Additionally, 40 men and 40 women have become certified football coaches.
Today, HRH Prince Ali Bin Al Hussein will return to officially open the girls-only pitch in Zaatari, having inaugurated the first pitch in 2017. Azraq will also welcome special guests for an official opening ceremony, including UEFA Foundation for Children general secretary Urs Kluser and PepsiCo Middle East and North Africa (MENA) snacks director Mazen Al Masri, who will meet members of the community and local certified football coaches.
UEFA president Aleksander Čeferin said: "These new football pitches have been designed to help create an everyday environment where youngsters can enjoy recreational time and remain children even in wartime. The new girls-only facility in Zaatari meets a growing need to promote girls' participation in sports activities at the camp, while supervised sports activities at both camps will help reduce tensions, encourage dialogue and improve conflict resolution and well-being."
HRH Prince Ali Bin Al Hussein, AFDP founder and chairman said: "When children enter these football pitches, they dare to dream big. They are football players, defenders, strikers, goalkeepers, referees and fans, having a good time while learning how to play in a team. In many, lasting ways, their lives will be transformed well beyond that last whistle blow."
PepsiCo's MENA snacks director, Mazen Al Masri, said: "The Arab world is united in its love for football, and the Zaatari project enables young people to live out their passion and bond over the camaraderie the sport inspires. PepsiCo is proud to be part of this initiative with the AFDP and the UEFA Foundation for Children, in line with our Performance with Purpose strategy to do business in a way that benefits the communities we live and work in."
Lay's, a PepsiCo brand, has been an official partner of the UEFA Champions League since 2015. It has a long-standing relationship with football around the world, having developed several initiatives to promote the sport throughout the Arab world in addition to its UEFA Champions League partnership. Lay's has also replaced areas of wasteland with football pitches in Egypt and Saudi Arabia, as well as screening UEFA Champions League matches free in youth centres and other locations in both countries.
CONTACTS
UEFA Foundation for Children

Media Department

Switzerland

-
MORE FROM News
SUBSCRIBE TO RSS FEED
XML