2018 UEFA Grassroots Awards Winners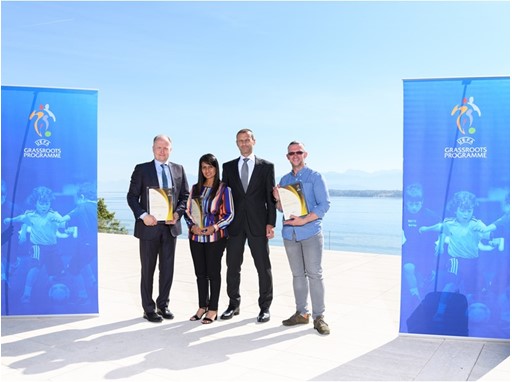 England, Finland and Iceland are the gold winners in the 2018 UEFA Grassroots Awards, which reward leaders, clubs and projects across Europe for their outstanding grassroots football work.
England, Finland and Iceland have won the gold prizes in the 2018 UEFA Grassroots Awards, which honour leaders, clubs and projects in Europe for excellence in the crucial grassroots football sector.
Parm Gill (England), FC Sækó (Iceland) and HJK Helsinki (Finland) have won the respective gold awards in three categories – Best Grassroots Leader, Best Grassroots Project and Best Grassroots Club. Silver and bronze awards have gone to other deserving candidates.
The winners were all presented with their awards by UEFA President Aleksander Čeferin at the House of European Football in Nyon.
The award-winners were announced to mark UEFA Grassroots Week, during which activities have been taking place across Europe, with the aim of encouraging and inspiring participation in all forms of football.
The UEFA Grassroots Week takes place in conjunction with the European Week of Sport and in cooperation with the European Commission.
UEFA considers the grassroots as vital in helping football maintain its overall good health, Football is built on the grassroots, which are kept alive by thousands of volunteers, projects and clubs across Europe. UEFA's awards are designed to recognise, celebrate and promote this inspirational work.
"Grassroots football is crucial to the well-being of sport," says Aleksander Čeferin, who has made the nurturing of the grassroots sector a key element of his presidency.
"I want to ensure that UEFA continues to work closely with all our member associations," he adds, "to enable everyone to have the opportunity to play and enjoy the sport which we love."
The 2018 UEFA Grassroots Awards winners:
Best Grassroots Leader
The Best Grassroots Leader award goes to a volunteer coach/organiser who has exhibited exceptional commitment and had a big impact (numbers playing or social significance) over a longer period.
Gold –  Parm Gill (England)
Parm Gill has given long years of service in trying to give girls and women – and especially the local Sikh community –  in the south-east English town of Gravesend greater opportunities to play and fall in love with football.
 
The silver award has been won by Kristina Surdokaité (Lithuania), an organiser of annual football festivals for up to 500 children, as well as events for children with special needs. Jane Lavery (Scotland) is the bronze award winner for her work as a leader at the Pollok United club, as club general secretary and coach for the girls' and disabled section.
Best Grassroots Project
The Best Grassroot Project award is bestowed upon a special grassroots project run by a regional entity that has a specific focus on football development, society, education or health.
Gold: FC Sækó (Iceland)
An independent club based in the capital Reykjavik that aims to improve the mental and physical health of people with mental health problems, and to provide them an opportunity to meet people, play football and have fun.
 
The Amateur League Concept (Georgia) wins the silver award for pioneering work on behalf of organised grassroots football in Georgia that have led to regional grassroots leagues and an amateur cup. Bronze goes to Ghetto Football (Latvia), which has united ethnic minorities and helped their social integration, while also encouraging an active lifestyle among young people.
Best Grassroots Club
The Best Grassroots Club award is given to clubs with an inclusive agenda or special purpose which is impressive for reasons including numbers of players, teams or outlook
Gold: HJK Helsinki (Finland)
A renowned grassroots club in Finland with over 3,100 registered players across all levels of society and ability – a professional club which cares for the community and embraces the grassroots game.
 
City Pirates Antwerp (Belgium) are the silver award winners – a multicultural club with over 1,100 youth players from more than 80 different countries, and which acts as a social platform for people to develop social skills through football. The bronze award has been won by Carrigaline United FC (Republic of Ireland), a community-led club with more than 100 teams, and which focuses on inclusion and accessibility and coordinates activities for children with special needs. 
How the UEFA Grassroots Award winners are selected
 
The UEFA Grassroots Awards have been run annually since 2010. The awards reward excellence in the grassroots field, and national associations from around Europe are invited to put forward candidates each year. UEFA's Executive Committee ratifies the awards following recommendations made by the UEFA Grassroots Panel bureau and UEFA Development and Technical Assistance Committee.
CONTACTS
UEFA Media & Public Relations

CH-1260 Nyon 2

Switzerland

+41 848 04 27 27
MORE FROM News
SUBSCRIBE TO RSS FEED
XML