Aleksander Čeferin – building a bright future for women's football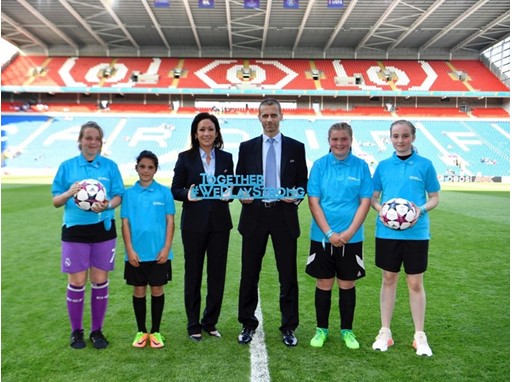 The UEFA President is confident that UEFA's brand new Together #WePlayStrong initiative will take the women's game forward across Europe.
​UEFA President Aleksander Čeferin is committed to developing women's football, and is confident in its huge potential for the future.
That's why he welcomes UEFA's innovative Together #WePlayStrong initiative, aimed at transforming perceptions of women's football and encouraging girls to take up and continue playing the game.
On the biggest day in the European women's club football calendar, the UEFA Women's Champions League final between Lyon and Paris Saint-Germain, Aleksander Čeferin told us from Cardiff City Stadium that the Together #WePlayStrong campaign is an important moment for UEFA. 
He was joined for the photo by German women's football legend Nadine Kessler, UEFA women's football advisor.
CONTACTS
UEFA Media & Public Relations

CH-1260 Nyon 2

Switzerland

+41 848 04 27 27
MORE FROM News
SUBSCRIBE TO RSS FEED
XML