A new start through football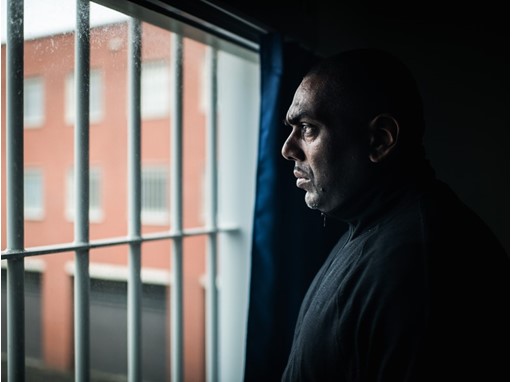 Working at football clubs brings former prisoners back into society
Jules Rasoelbaks has had a long path towards redemption – and the 48 year-old from the Netherlands has been using football, his personal history within the justice system, and his ability to relate to people to help former prisoners restart their lives.  
Every month, as part of its #EqualGame campaign, UEFA is focusing on a person from one of its 55 member associations. This person will be an example of how football promotes inclusion, accessibility and diversity; his or her story will exemplify how disability, religion, sexuality, ethnicity and social background are no barriers to playing and enjoying football.
"I have a way with people, I find it easy to relate to them," says Jules Rasoelbaks – a respected coordinator with De Hoop, a rehabilitation centre based in Dordrecht in the Netherlands that helps people with a drugs addiction or mental health issue to reintegrate into society.
One of his projects revolves around working closely with FC Dordrecht – who play in the second tier of Dutch football. "I'm an emotional person and, from the first moment, I have seen that we belong with the club." We are one of them, and that is how they feel too." Together with the club he helps former prisoners to gain working experience in maintenance or as hosts and match day stewards – acknowledging that this is "very important to them, as they have to rebuild their lives." The ultimate goal is to help them to develop towards a paid job.
"You can't just walk up to someone on the street and say, 'Hey, you have to help me'," says Rasoelbaks – an outward going man and somebody who is incredibly serious and sincere when it comes to his faith and his job. He speaks with enthusiasm when discussing the initiatives that De Hoop is undertaking at the football club. "FC Dordrecht has embraced us," he explains. "To be able to cooperate in such a way that you are simply appreciated, recognised and treated as a fully-fledged person. That just gives a very good feeling to anyone."
Rasoelbaks has first-hand experience of the difficulties faced in trying to make a new start. He was sent to prison on seven occasions, and was a drug addict for 22 years. He has now been clean for almost a decade, and his work at De Hoop revolves around three roles: "as a bridge builder, ally and representative."
"I have learned that my biggest weapon is my tongue, daring to talk about the things I think about, about what is going on, how I feel," he says. "It is also about showing your vulnerabilities, even as a role model."
Football has always held a prominent position in Rasoelbaks' life. "I was pretty good at playing football – I had talent," he remembers. He also sees the powerful role that the sport can play in reintegration processes. "We have a football tournament every month at the rehabilitation centre, where the boys can unleash their energy. It gives them some time to unwind and, for a short while, be away from therapy," he explains. "Everyone plays together, including the staff, which creates togetherness. Emotions run high - and that shows the power of football."

The Dutch Justice and Security Ministry has been backing the initiative to reintegrate prisoners into society, through its own programme 'Work through Sport.' At present, 54 participants have managed to find work through the project, with 35 clubs, including FC Dordrecht, involved in the project.
"'Work through Sport' considers this to be a win-win situation," emphasises Gerko Brink, who is leading the project. "The cooperation with the clubs has been established in order to create an innovative and sustainable way to help prisoners into finding a workplace." 
"However, the most important success factor is the new social network for a prisoner," he adds. "A football club is often a warm nest, a clean social network, and prisoners feel like they belong somewhere."
CONTACTS
UEFA Media & Public Relations

CH-1260 Nyon 2

Switzerland

+41 848 04 27 27
MORE FROM News
SUBSCRIBE TO RSS FEED
XML