2018 #MORETHANFOOTBALL ACTION WEEKS KICKED OFF IN PARIS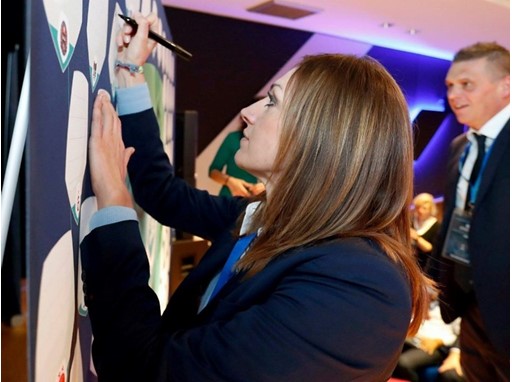 On 21st of March, the 2018 #Morethanfootball Action Weeks were kicked off in Paris. The beautiful stadium Parc des Princes provided a fantastic setting for the launch of the European- wide campaign that is an initiative of EFDN, the ECA and the UEFA Foundation for Children. 
The inauguration was attended by around 120 practitioners, project leaders and decision makers from community engaged clubs, foundations, football associations and leagues. Among others representatives of the EPFL, Inter Campus, Saints Foundation, Barcelona Foundation, Paris Saint-Germain Foundation, FC Schalke 04, Real Madrid, Tottenham Hotspur, Athletic Club Bilbao, Legia Foundation and Shakhtar Donetsk were in attendance.
As one of the highlights, the dynamics of the inauguration involved the release of the official #Morethanfootball video. During the Action Weeks, from 21st of March until 8th of April, the video will be used to raise awareness for the powerful role that football plays in changing peoples' lives for the better. European club football will be encouraged to share the video on their digital media channels and at their matchdays.
CELEBRATING CSR IN FOOTBALL
The kick off gave a number of CSR in football practitioners, as representatives of Inter Campus, the FC Barcelona Foundation, EFDN and the ECA the opportunity to share their vision on why they believe that football is much more than just a game. Hubert Rovers (EFDN) and Alun Vaughan (ECA), who kicked off the event emphasised the level of great work that is taking place all across Europe on and off the pitch through the delivery of innovative and impactful community programmes. European football organisations were encouraged to keep being engaged and motivated to use football as a tool for social development.
All organisations that are committed to using the power of football as a tool for social development are very warmly invited to join the celebration and to participate in the #Morethanfootball Action Weeks.
Numerous clubs across Europe have already confirmed their participation in the annual event, including SL Benfica, Manchester United Foundation, FC Barcelona Foundation, Motherwell, Juventus, Southampton FC, Greenock Morton and Montrose FC.
THE AROUND THE WORLD CHALLENGE
A new feature of this year's campaign is the #Morethanfootball #Aroundtheworld Challenge. This challenge encourages everyone who loves football to give their story on why football is #Morethanfootball, try the #Aroundtheworld trick, nominate their friends to do the same, and share the video online. For more information on the challenge and to participate click
here
.
The launch of the #
Morethanfootball
Action Week was also broadcasted on the #
Morethanfootball
Facebook site
and can still be watched there.
CONTACTS
UEFA Foundation for Children

Media Department

Switzerland

-
MORE FROM News
SUBSCRIBE TO RSS FEED
XML