"It Shouldn't Be A Problem For Any Gay Person To Play Football"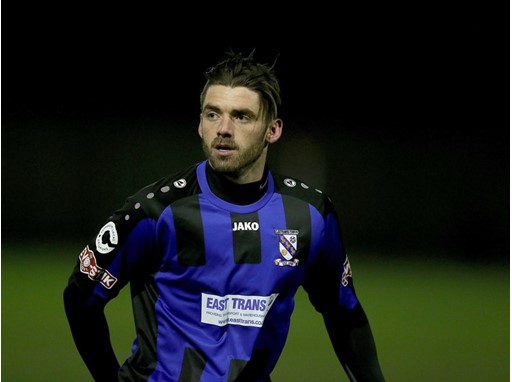 "Gay footballers shouldn't have to feel like they can't play, and they shouldn't have to feel like they're out of place. They're not…." ─ young English footballer Liam Davis.

Every month, as part of its #Equal Game campaign, UEFA is focusing on a player from one of its 55 member associations. This person will be an example that disability, religion, sexuality and race are no barriers to playing and enjoying football.
--
Liam Davis epitomises everyone's right to experience the joy of football, no matter who they are, what they are or where they come from – the ethos behind UEFA's #EqualGame campaign promoting diversity, inclusion and accessibility in football.
The 27-year-old footballer from the English county of Lincolnshire, who plays in midfield for Cleethorpes Town FC in the Northern Premier League, has openly come out as gay – and is also the first openly gay male footballer to play on the hallowed English turf of Wembley Stadium.
Coming out can present its share of delicate personal, professional and social problems. But it's been a move that Liam has never had cause to regret, both in his everyday life and especially in his career in football.
"My sexual orientation has never been a thought when I'm playing football," he says. "It's just football. Ball, goal, game."
Liam came out at the age of 18, firstly to family, and then to friends. "I just felt like the time was right. In terms of where I was at and how I felt, it was perfect timing."
Any fears of being ostracised soon proved to be unfounded. "There were very few questions, people didn't turn their back on me or anything like that. Life just carried on as normal." His family's care and understanding also served to reassure him on his path. 
He's received admirable support from Cleethorpes Town, a community-oriented club, and elsewhere on his football journey. "I've never had any problems at any club I've ever been at," he explains. "It has always been positive teammates, positive staff management and fans. It's always been a positive experience for me."
"For the club to back you up as well is great, because I couldn't imagine what it would be like if they didn't. You'd feel like you've got nobody there for you, and that you're all alone again. There would be no point in playing."
The team spirit that Liam relishes in football also applies to his life in Cleethorpes, a seaside resort on England's North Sea coast. He describes it as "a lovely little town. The people are really close-knit. You walk down the street, everybody will say hello to you."
What were the responses when he came out? "There wasn't any sort of surprise or shock. It didn't really matter to anybody."
Football has been within Liam's life since his boyhood in the Lincolnshire village of Waltham. "Football always made me feel good," he says. "There would always be a ball down the side of the house, or if I ever had some time to myself, it would always be: go and knock a ball about."
He was talented enough as a youngster to spend time on the books of nearby local English Football League outfit Grimsby Town." Nowadays, running a popular restaurant in Cleethorpes with his partner occupies his time alongside his playing duties. An open, warm approach endears him to customers and staff, as well as his teammates.
Liam has experienced homophobic abuse on the pitch, and an opponent was given a five-match suspension for making remarks to him during a match that were reported by the club. However, he feels that the tide may gradually be turning. "I'd like to think attitudes are changing towards homophobic abuse," is his view.
"And I think the more that people do react to it, the less it will happen, because if someone gets a five-match ban, he won't do that again."  
UEFA President Aleksander Čeferin is unequivocal in underlining UEFA's firm stance on the issue: "UEFA rejects all forms of discrimination against any person's sexual orientation," he stresses.
"We do not tolerate any kind of homophobic, racist or sexist behaviour, and we will always stand for values such as diversity, gender equality and social inclusion."
Football gifted Liam the biggest day of his career so far this May, when he lined up for Cleethorpes Town in the national FA Vase final at Wembley Stadium. The sheer thrill of performing at England's football temple ended up outweighing the disappointment of defeat against South Shields.
"It was the best day, regardless of the score," he recalls. "It was the most amazing experience that any footballer could ever have." And, as the first openly gay male footballer to play at Wembley, he appreciates the positive vibes that came his way.
"When you see the reaction that you get on social media, from people you've never met, people saying the nicest of things and how it has changed them…"If Liam can do it, then why should there be a problem?'"
"You've achieved a positive [impact] on other people, in how they've seen you and how they see themselves - it's a nice feeling…"
Liam is a firm advocate of the UEFA #EqualGame campaign and the essential values that it represents. "Everybody's equal in football," he insists. "Being gay shouldn't ever be a stigma."
"Football is there for anybody who has a love for the game. Whether it be in a playing capacity, a supporting capacity or a watching capacity. There shouldn't be anything to hold anybody back."
And what would be his advice to a young gay footballer about coming out? "Just to be themselves, at any level or any standard that they're playing at. Don't over-worry and overthink things."
"Don't ever think about having to introduce yourself [at a club] as a gay footballer. You're just a footballer. You're just a teammate. If the manager wants you there, you're there. What you do off the pitch is your life. Your life is your life...and football is just part of it."
CONTACTS
UEFA Media & Public Relations

CH-1260 Nyon 2

Switzerland

+41 848 04 27 27
MORE FROM News
SUBSCRIBE TO RSS FEED
XML