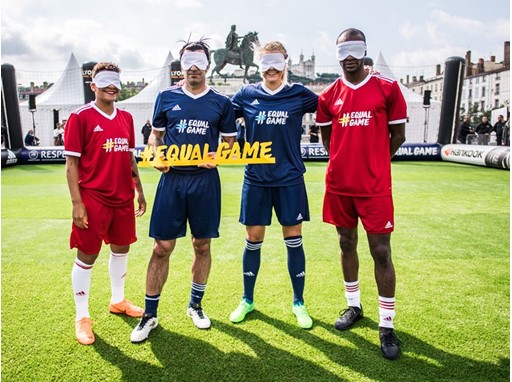 UEFA is celebrating the first full season of its #EqualGame campaign, which aims to positively promote inclusion, diversity and accessibility in European football.
To mark the occasion, UEFA organised a special football match ahead of the UEFA Europa League final between Marseille and Atlético de Madrid in Lyon.
The match at the UEFA Europa League Village at the Place Bellecour featured grassroots stars from across Europe who have featured so far in the campaign.
They were joined on the pitch by Portuguese legend Luís Figo, former Olympique Lyonnais and Barcelona ace Eric Abidal and current Olympique Lyonnais women's stars Ada Hegerberg and Shanice Van De Sanden.
The aim was to emphasise #EqualGame's key message that football is open to all people, irrespective of age, gender, ability, religion, sexual orientation, ethnicity or social background.
Since #EqualGame's launch last August, these grassroots players have shared their fascinating stories with UEFA, and have brought the campaign to life through the written and spoken word.
Ada Hegerberg said "Our match showcased equality on the pitch, and highlighted just how football should be accessible to all, no matter who they are, or where they come from."

Ramutė Kartavičienė scored three times during the match. "But this match was not about scoring goals. It was about playing together with all kinds of people from different backgrounds and with a variety of abilities. We didn't know each other before we came here, but I made new friends. We have one thing in common; we love the game."