We Welcome Young Refugees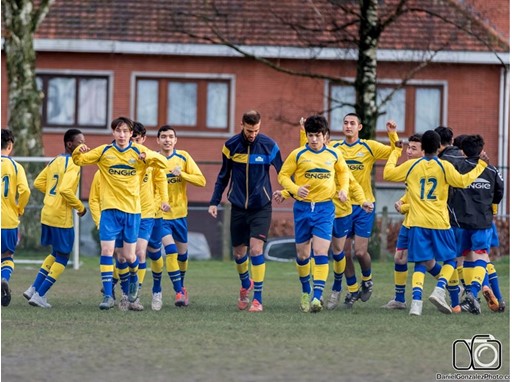 CONTEXT
The Royal Europa Kraainem Football Club is an amateur club in the eastern suburbs of Brussels. With 350 young players of 42 different nationalities, the club stands out as a true model of multicultural diversity. This is reflected at every level, from the children to the managers, coaches and volunteers. The club puts this diversity to good use.

Kraainem FC has always been proactive in its efforts to promote social integration and is convinced that football is more than just a game. As a grassroots sports organisation, it feels it has an important role to play in inculcating all the social and societal values of sport in its young players, to make them not only better footballers but also better citizens.

In the wake of the migration crisis of 2015, the club decided to become an example of proactive social integration, by adapting its everyday activities so that it could involve underage refugees in the life of the club. Kraainem now provides football training, language classes and various other activities. Its work with these young refugees has become an essential pillar of club life.

The project specifically targets unaccompanied minors seeking asylum in Belgium. As the home countries of these children are wracked by war or great instability, they are likely to stay in Belgium, where they find themselves in in new surroundings with a completely different lifestyle yet lacking the cultural or linguistic knowledge they need to fit in. So, we need not merely to welcome them but also give them the tools they need to successfully integrate into Belgian society and professional life.

By the end of 2016 FEDASIL, the Belgian agency for the reception of asylum-seekers, and its partners had taken in 22,903 refugees, 2,032 of whom were unaccompanied minors. The vast majority are boys (15–17 years old) from Afghanistan who have fled the war without their parents.
PROJECT CONTENT
The club welcomes about 30 unaccompanied refugees a week, aged from 10 to 18, under a partnership agreement between Kraainem FC and FEDASIL. Three times a week, a group of five to ten children are brought from one of the asylum centres to spend the afternoon at the club. The youngsters share in the normal life of the club, training with a qualified coach and attending teaching sessions. They also receive free equipment and lunch at the club's cafeteria.

The initiative has been a tremendous success for the club, the reception centres and most importantly the young refugees. Local, national and European media have regularly covered the Kraainem project over the past two years. This has encouraged the club to take it a step further, and it not only intends to consolidate its own project, but also to raise awareness and support other Belgian clubs wanting to follow suit.
OBJECTIVES
Invite 30 unaccompanied minors, aged 10 to 18, to join in the club's activities each week.
Encourage other clubs and refugee centres to launch similar projects, in collaboration with the Royal Belgian Football Association.
Exchange experiences with other Belgian clubs working with refugees. A conference was already held in December on this subject.
Organise the second annual Football and Freedom tournament in the spring 2018, with teams comprising 50% refugee players.
Organise football weeks during school holidays for club players and refugees. Mornings will be dedicated to training sessions and afternoons to excursions and cultural exchanges.
EXPECTED RESULTS
The project will become a leading light in integrating youngsters through grassroots sport.
Kraainem FC will play a leading role in duplicating this pilot project throughout the country.
The recognised success of this programme will encourage the continuous support of important partnerships, such as with the Belgium Football Association and FEDASIL. This will enable us to maintain this project in the coming years.
PARTNERS
CONTACTS
UEFA Foundation for Children

Media Department

Switzerland

-
MORE FROM Images & Videos
SUBSCRIBE TO RSS FEED
XML