UEFA Foundation for Children Supports Solidarité Aveugle (Blind Solidarity) to Promote and Develop Blind Football Activities in Bamako, Mali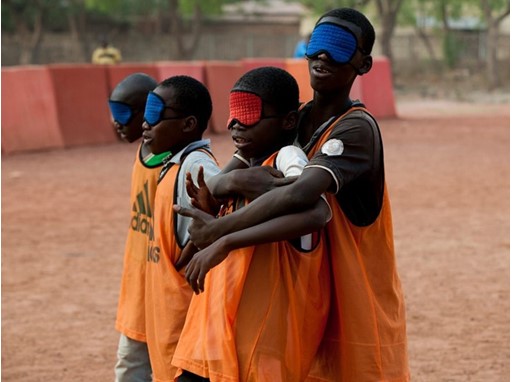 The story began with keen photographer Catherine Cabrol taking pictures of blind and partially sighted children at the Institut des Jeunes Aveugles (IJA), a school for blind children in Bamako. Catherine, who is also founder of the Libre Vue (Free View) association, wanted to connect with the children in a meaningful way and help them by selling her photos to fund a project to introduce the girls and boys to blind football. Thanks to her photography and the support of benefactors, Libre Vue was able to build a pitch designed especially for blind football, which opened in October 2012.
Supported by UEFA Foundation for Children, Solidarité Aveugle (Blind Solidarity) is a sustainable project designed to promote and develop blind football activities at the IJA. Focusing on the considerable needs of the school, the project aims to improve the lives of blind and partially sighted children by using football as a force for integration and development. By visiting mainstream schools, the project also aims to raise awareness among other children and change attitudes towards disability and difference.
Sport plays an educational role, promotes important values, combats exclusion, improves well-being and increases self-esteem. The IJA is somewhere where the children can come together and receive special education, but in difficult conditions. The school lacks dormitories, classrooms, a canteen, access to sport and other vital infrastructure. The football pitches flood during the monsoon season and are in a deplorable state.
Objectives
With the support of the UEFA Foundation for Children, the Solidarité Aveugle project hopes to achieve the following objectives in 2017:
Train the young players in blind football and give them first-rate coaching of an international standard
Organise Mali's first blind football cup
Raise awareness of visual impairment among the young people of Bamako
Build new facilities, including separate changing rooms and showers for girls and boys
Project activities
Pitch maintenance, replacement of sports equipment for the children, and provision of blindfolds and bell balls, which are essential for blind football
Training week for coaches and players with expert instructors
Organisation of Mali's first blind football cup in autumn 2017
Awareness campaign: visits with IJA pupils to mainstream schools
Finalisation of the house for blind football
CONTACTS
UEFA Foundation for Children

Media Department

Switzerland

-
MORE FROM Images & Videos
SUBSCRIBE TO RSS FEED
XML