Sport After Reading and Play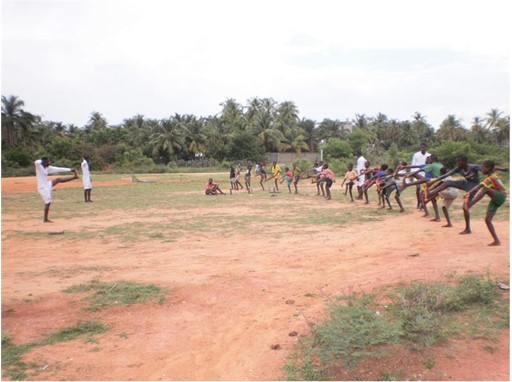 According to the United Nations, Benin, Cameroon and Togo are some of the world's poorest countries, ranked 166th, 153rd and 162nd respectively out of 188 in terms of human development. None of them have an average life expectancy of more than 57 years; children spend an average of less than six years at school (less than four in Benin); less than a third of children go on to secondary or higher education; and both women and girls are marginalised when it comes to sport.
 
"Sport after reading and play" is a project that forms part of an educational programme outside of school which uses games, sport, books and modern IT in order to provide teaching, pursue preventive and educational goals, and achieve a comprehensive range of development objectives in deprived areas of developing countries, establishing libraries of books and games, sports academies promoting team sports, dedicated IT areas, etc.

This project uses the power of football – and sport in general – to foster the development of deprived children in all respects and improve their life chances. The funding that the UEFA Foundation for Children provides will allow the project to:


build and equip multi-sport pitches in the heart of deprived areas of the three countries;
purchase sports equipment for handball, basketball, football and volleyball;
train young local sports coaches;
organise a sports academy offering four hours of coaching a week for each sport (i.e. a total of 16 hours a week across the four sports);
organise a promotional tournament;
bring organisers from the three countries together to exchange ideas;
establish monitoring, oversight, support and assessment mechanisms.

OBJECTIVES
Foster personal development and self-confidence, preparing children for the future and helping them to escape poverty
Help teachers/instructors to organise high-quality educational initiatives through sport with a view to fostering all aspects of development
Help to improve the physical and mental well-being of young children and adolescents in deprived areas by giving them the opportunity to play four team sports (football, handball, volleyball and basketball) in a high-quality environment
Teach children sporting values such as respect, sharing, solidarity, humility, perseverance, discipline and team spirit
Promote universal access to team sports through regular sessions overseen by trained local coaches from the same social class as the children
Foster exchanges of ideas/experiences and networking among the young sports coaches with a view to effecting lasting change through sport

EXPECTED RESULTS
In order to ensure that these sports are played in appropriate conditions, help participants to really develop their sports skills and learn the positive civic values embodied by sport, and encourage children to adopt behavioural patterns that reflect the project's educational objectives, a maximum of 30 participants will be able to sign up for each of the four sports (handball, volleyball, football and basketball) in each semester – i.e. each country will have a limit of 240 children per year (resulting in a grand total of 720 beneficiaries per year). This should allow the following objectives to be achieved:


Develop new educational activities in these deprived areas
Facilitate team sports through the construction of pitches
Recruit young coaches (men and women) to work with local children
Offer sustainable and structured sporting activities throughout the year
Foster positive values such as respect, sharing, solidarity, discipline and team spirit
Increase participation among girls and stimulate the local community
Tackle inactivity.
CONTACTS
UEFA Foundation for Children

Media Department

Switzerland

-
MORE FROM Images & Videos
SUBSCRIBE TO RSS FEED
XML