Diversity in Football Leadership Pathway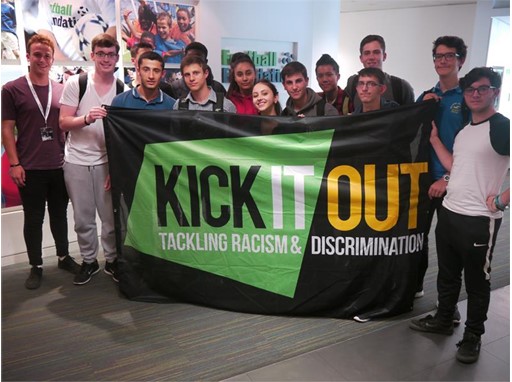 CONTEXT

Kick It Out is primarily a campaigning organisation that enables, facilitates and works with the football authorities, professional clubs, players, fans and communities to tackle all forms of discrimination in football. Kick It Out offers a wide range of educational activities to help pupils and college or university students understand about equality and inclusion within football and across society.

The Diversity in Football Leadership pathway targets young adults who are looking for professional opportunities in the football industry.

Young adults (16–24 year-olds) in London are better educated on leaving school than ever before. The proportion of 19 year-olds with qualifications has improved significantly in Inner London, overtaking the English average. Nevertheless, they are more likely to be unemployed; and even when in work, young adults are very likely to be low paid. Nearly 11% of 16–24 year-olds in London were unemployed in 2014, more than twice the level for 25–64 year-olds, while 77% of 16–20 year-olds and 41% of 21–24 year-olds are low paid. (Source: The London's Poverty Profile website).

At the same time there are more than 1,450 football clubs with over 3,300 teams across the city. (Source: London Football Association website).

PROJECT CONTENT

Training and development days
Kick It Out will source expert trainers from the football business, university teaching staff from partners UCFB – a higher education institution offering undergraduate and postgraduate degrees along with executive education in the football business, sport and events industries – or BPP University Business School, together with experienced educators from outside the sector.

The programme will start with four full-day training sessions on the core learning themes of empowerment (Premier League trainers), leadership (Premier League trainers), football governance (FA trainers), and project planning (Mitre Group trainers). Participants will be expected to attend at least three out of four sessions and will be surveyed on their knowledge of these areas at the start and end of the project in order to quantify knowledge gained.

In between these sessions the participants will be given additional reading with relevant group discussion questions and tasks based on the themes.

Raise Your Game (RYG) events
Participants will receive priority access to Raise Your Game career events throughout the year.
Raise Your Game is a unique Kick It Out programme that provides opportunities for people who aspire to work in the football industry, and is currently supported by the Premier League. Since its inception in 2012, the programme has helped numerous individuals find career pathways in roles such as coaching, media and communications, player engagement, physiotherapy, refereeing, and sports science.

Equality and diversity in football awareness course
Kick It Out is working with Southampton Solent University to offer this unique course aimed at educating future leaders of football and increasing awareness of Kick It Out's work in all sectors of the game. This course is designed for those who will lead the football industry to greater equality and inclusion.

Mentoring
Mentors will be sourced at the beginning of the project and introduced to participants after their induction. Mentors will deliver a minimum of three coaching sessions to facilitate developments at each stage of the participants' progress. The mentors will also support the participants at the end of the project activities by guiding them as they develop their action plans for the next six months.
The complete training course lasts 18 months.

OBJECTIVES
Providing a new pathway into football leadership and governance for communities underrepresented in the game.
Create a tailor-made learning curriculum to promote the values of Kick It Out, such as the benefits of equality, inclusion, diversity policies and practices in football.
Create pathway opportunities for young adults with a good education and looking for job opportunities in the sports industry.
Develop broader awareness and acceptance of Kick It Out's activities and its enabling and facilitating roles as a contributory force for good in football.
EXPECTED RESULTS
To influence key stakeholders in the game to address the issue of underrepresentation of women, disabled people and individuals from BAME and LGBT communities in leadership and governance positions in football.
To provide a new pathway into football leadership and governance for under-represented communities in the game.
To facilitate learning and development opportunities for young leaders from underrepresented communities in the game.
CONTACTS
UEFA Foundation for Children

Media Department

Switzerland

-
MORE FROM Images & Videos
SUBSCRIBE TO RSS FEED
XML