UEFA's #EqualGame campaign promotes diversity, inclusion and accessibility in football at the UEFA Champions League final in Kyiv, Ukraine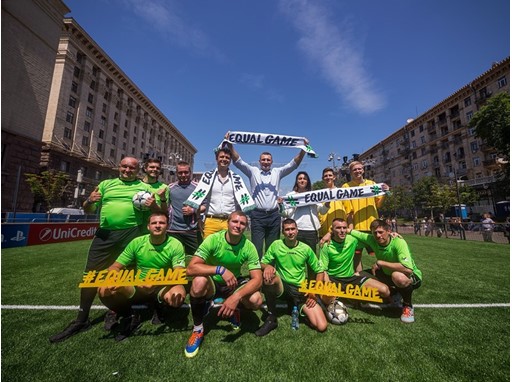 UEFA's #EqualGame campaign promoting diversity, inclusion and accessibility in football entered the spotlight during finals week in Kyiv.
Worldwide attention focussed on the UEFA Champions League and UEFA Women's Champions League finals – and the festivities in Kyiv provided the campaign and its values with a high-profile platform.
#EqualGame brings together the game's top stars and its grassroots players, and strives to demonstrate that football is open to all, irrespective of ethnicity, age, gender, sexual orientation, social background or religious beliefs.
A series of activities in the Ukrainian capital helped to highlight this message.
Football for all Abilities matches
The Champions Festival mini-pitch on Khreschatyk Street in Kyiv was the setting for Football for all Abilities matches, organised under the #EqualGame/Respect banner.
The matches featured amputee football, cerebral palsy football, Special Olympics football, and football with children from conflict areas, and aimed to promote inclusion, diversity and accessibility across European football – emphasising that although people are different, everyone can find common ground in their love of the game.
All of the organisations who have taken part are official football social responsibility partners of UEFA - Homeless World Cup, Special Olympics, the International Federation of Cerebral Palsy Football and the European Amputee Football Federation
One of those partners, the Centre for Access to Football in Europe (CAFE)organised audio-descriptive commentary for Saturday's matches.
The mayor of Kyiv, former professional boxer Vitali Klitschko, was a keen spectator. "It's very important to spread the message of social inclusion and diversity," he said, "and we want to do this through sport. Like Nelson Mandela said: sport has the power to change the world."
UEFA Champions Gallery
The UEFA Champions Gallery at the Champions Festival site showcased the history of the UEFA Champions League/European Champion Clubs' Cup and the UEFA Women's Champions League.
A dedicated #EqualGame exhibition highlighted six unique grassroots football stories from across Europe.
https://www.equalgame.com/
#EqualGame Dome
A third event at the Champions Festival site saw UEFA's social responsibility partners, along with the host association of the finals, the Football Federation of Ukraine, highlighting the importance of social inclusion in football.
They engaged with fans and visitors to the festival by showing and explaining their area of expertise. People were also invited to take part in a quiz to win attractive UEFA Champions League prizes.
CONTACTS
UEFA Media & Public Relations

CH-1260 Nyon 2

Switzerland

+41 848 04 27 27